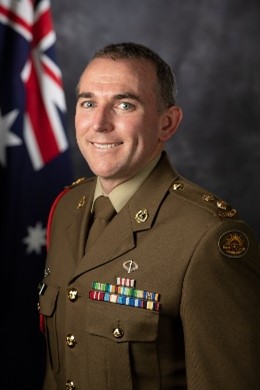 Colonel Paul Graham, DSM
Colonel Graham graduated from the Royal Military College – Duntroon into the Royal Australian Infantry Corps in 2000. His formative service was in the 5th/7th Battalion, The Royal Australian Regiment, including deploying to Timor Leste in 2003.
As a Captain, Colonel Graham's postings include the Defence Co-operation Program – Timor Leste, where he served as a temporary Major commanding a Battalion Advisory Detachment embedded with the Timorese Defence Force; and as both a Planner and Observer Trainer at Combat Training Centre-Live. He was posted early to the 7th Battalion, The Royal Australian Regiment in July 2008 in order deploy as a Team Leader, Operational Mentor and Liaison Team, Mentoring and Reconstruction Task Force – 1. For his leadership during an extended engagement with enemy forces during this deployment, Colonel Graham was awarded the Distinguished Service Medal.
Upon promotion to Major in 2010, Lieutenant Colonel Graham assumed command of Bravo Company, 7 RAR. The following year, as the Battalion Operations Officer, he relocated with the Battalion to Adelaide. Post attendance at Australian Command and Staff College, he served as the Brigade Major of the 1st Brigade in Darwin. On promotion to Lieutenant Colonel in 2015, he served in Plans Branch at Headquarters Forces Command for two years prior to assuming Command of 7 RAR in 2017. During his tenure, significant elements of the Battalion returned from operations in both Iraq and Afghanistan and upon their reintegration, the Battalions' main effort became the implementation of Plan Keogh. This saw 7 RAR lead the re-establishment of the Mechanised Infantry capability within Army. As well as a focus on collective warfighting skills, the Battalion also deepened its international engagement efforts with Army's regional partners, particularly Timor Leste, and initiated further cultural engagement activities with local Indigenous communities.
Since January 2019, Colonel Graham has served in the Land Combat Vehicles Program within Land Capability Division, Army Headquarters. He was the lead Army representative for the initial tender evaluation for Project Land 400 Phase 3, which will deliver Army's future Infantry Fighting Vehicle capability. Upon his appointment as Program Director in November 2019, he assumed responsibility for the management of all Army's current and future armoured fighting vehicle capabilities.
Colonel Graham and his wife, Sally, have two children, Xavier and Isabella.  In addition to his sponsored tertiary qualifications, he is a graduate of the Apollo Course in future warfare analysis. Colonel Graham's other interests include military history, current affairs, Australian Rules football, running, and travel.